vRealize Operations 8.5 is a minor release addressing security updates and bug fixes. For feature details, please refer to the vRealize Operations 8.4 documentation.
Review the following documentation:
Preperations
Check the current version of your vRealize Operations Manager
Download the necessary (update) files from VMware's Customer Connect site.
In our case we are running 8.3, therefore we need the upgrade file stated below:
vRealize Operations 8.5.0 – Upgrade Assessment Tool
VMware vRealize Operations – Virtual Appliance upgrade for 8.0.x, 8.1.x, 8.2, and 8.3
Accept the License Agreement (after selecting the download file)
Make a snapshot of the vRealize Operations Manager appliance
First step is to install the Upgrade Assessment tool, this tool will run some checks to make sure the environment is ready to be updated.
Log in to the vRealize Operations Manager admin portal > https://vROPS_url/admin
Select > Software Update > Install a Software Update
Select the assessment tool file > APUAT-8.5.0.18176777.pak > Upload
The file is successfully staged and validated > Next
Accept the EULA > Next
Start the installation > Install
Check the installation status
Installation is finished
Go to > Support > Support Bundles > and download the bundle that was just created
Now unzip the file in it's entirety
And go to the apuadat-data folder > report > select the index.html file
Check the results on the System Validation Checks tab. This particular warning reminds you to use the correct upgrade .pak file, when running version 8.3
Also check the > Removed/Discontinued Metrics tab
Install upgrade file
Go to Software update > Install a Software Update

Select the file and choose Upload to stage the vRealize_Operations_Manager-VA-8.x-to-8.5.0.18255614.pak file
Once the upload is finished it will start to stage the software
Accept the EULA > Next
Take note of the update and release information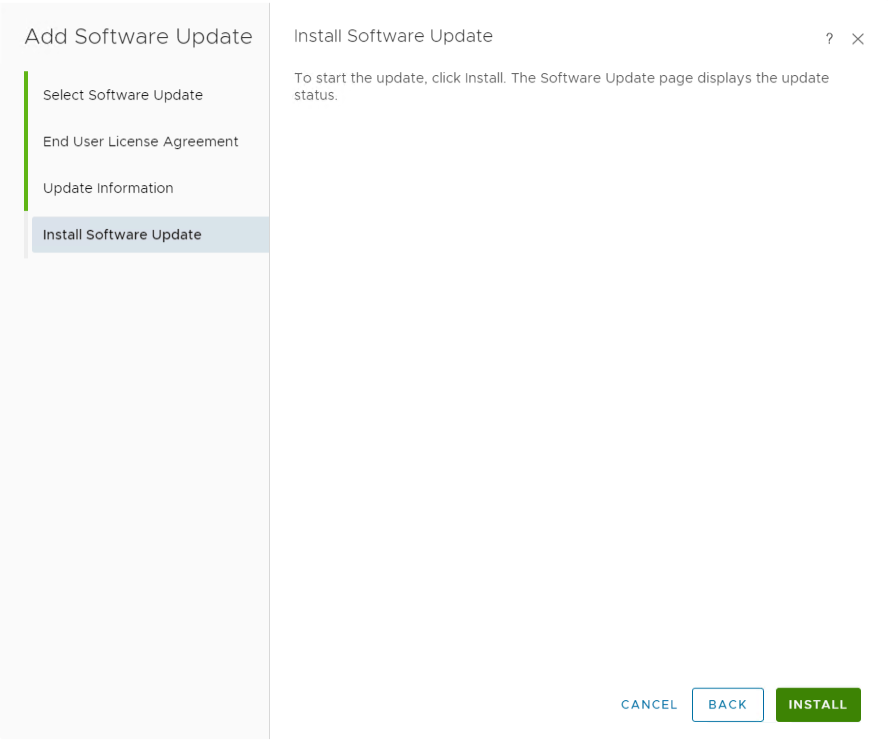 The management interface will be unavailable from time to time. Just refresh the browser regularly to see if you can log in again in order to check the installation status
Installation is done > Current version is 8.5.